container: Linuxserver / calibre (https://hub.docker.com/r/linuxserver/calibre)
Running on Synology NAS DSM 6.2.2 - 24922 update 3
dear all
Thanks for reading this - I'm really thankful for your help and please apologize my limited IT knowledge…
I have to goals
make the container run on my machine - till now it doesn't - please find enclosed
overview / Überblick

prozess

log / protokoll
actually I find the explanation "How to install" the container quite demanding and I had problems to understand what is needed.
I tried to introduce also PUID / PGID as suggested.
goal: I would like to use letsEncrypt for secure access. My domain is secured, but I believe to need to secure the calibre - port as well (or if DSM only allows ssl - connections - I need a certificate INSIDE calibre).
I don't know how to set this up and actually I would like to have only one certificate on my DSM (so one option is to have a docker with certbot which gets the certificate which is than used within Docker AND by the DSM - right??
Thanks for your help!
Henning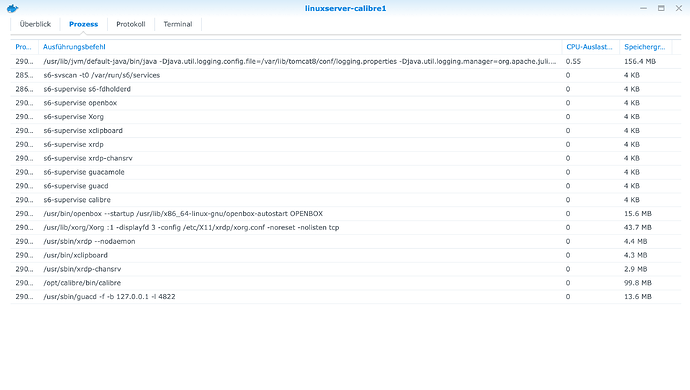 Link to the log-file: https://www.dropbox.com/s/k67rvqn16u5ffs3/linuxserver-calibre_mod.csv?dl=0
Link to overview
As I couldn't put the overview here - let me know, if you need this information …