I'm having a bit of a brainfart with trying to use the couchpotato docker to work with utorrent, and I'm hoping perhaps someone could tell me what I'm doing wrong. I'm a bit new with docker however I was able to couchpotato MOSTLY working with the exception of the "test" utorrent connection.
I have a non-docked couchpotato that can use utorrent on the same network just fine.
sudo docker create --name=couchpotato
–restart=always
-v /home/docker/couchpotato/config:/config
-v /home/docker/couchpotato/downloads:/downloads
-v /Windows/Natasha/Movies:/movielink \ -> a mapped drive to my NAS
-e PGID=1001 -e PUID=1001
-e TZ=Europe/London
-p 5050:5050
-p 8090:8090 \ -> tried this just for fun, that didn't work
linuxserver/couchpotato
so I have utorrent running on a separate server at http://10.0.0.116:8090/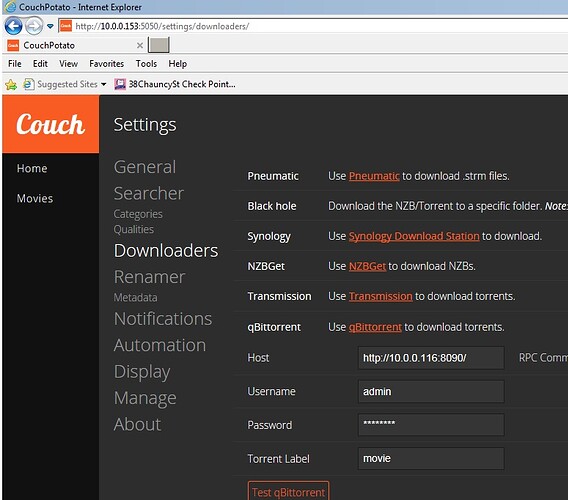 so in the settings (under Downloaders) there is a utorrent selection that (and I know I have the username/password correct), the Test will not work.
Is there a setting I am missing? Docker shell access of couchpotato allowed me to ping the server no problem. Is this just a port issue? Should I be adding a bunch of ports for utorrent or something? I'm a bit lost, thank you for any assistance. Again Utorrent is not in a docker, and my "undocked" (is that a term) couchpotato can run the test with the same config.