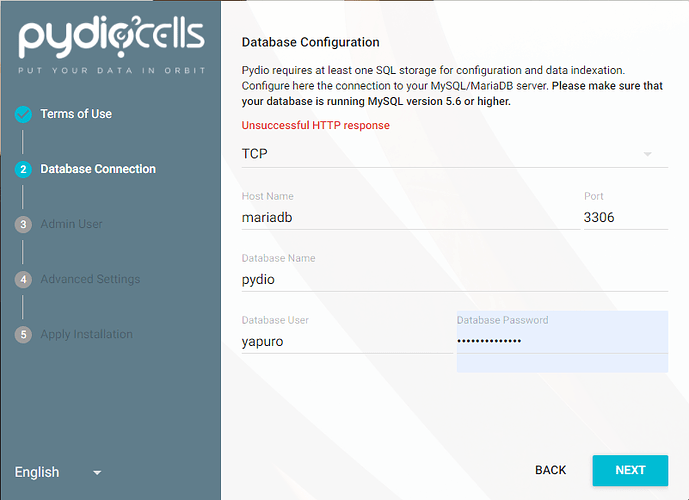 First of all, I am sorry for my poor English.
I succeeded in creating a container following a document on linuxserver.io to run the pydio-cells on the swag network.
But, during database configuration, pydio-cells failed to read mariadb and could no longer proceed with the installation process.
I tried similar things to the nextcloud installation method, but it was still unsuccessful.
I couldn't find a log to refer to, so I couldn't solve it by myself.
Ubuntu 18.04 LTS + Docker lastest version
Pydio-cells is applying swag reverse proxy.
Both mairadb container and pydio-cells container are connected to the swag network.
Here is the docker-compose docs used to create the container.
If there is a log that I can provide, I will.
mariadb docker-compose
---
version: "2"
services:
  mariadb:
    image: linuxserver/mariadb
    container_name: mariadb
    environment:
      - PUID=1000
      - PGID=1000
      - MYSQL_ROOT_PASSWORD=****
      - TZ=Asia/Seoul
      - MYSQL_DATABASE=pydio
      - MYSQL_USER=yapuro
      - MYSQL_PASSWORD=****
    volumes:
      - /home/yapuro/docker/mariadb:/config
    ports:
      - 3306:3306
    restart: unless-stopped

pydio-cells docker-compose
---
version: "2.1"
services:
  pydio-cells:
    image: ghcr.io/linuxserver/pydio-cells
    container_name: pydio-cells
    hostname: pydio-cells
    environment:
      - PUID=1000
      - PGID=1000
      - TZ=Asia/Seoul
      - EXTERNALURL=https://yapu.kr
    volumes:
      - /home/yapuro/docker/pydio-cells:/config
    ports:
      - 8080:8080
      - 33060:33060 #optional
    restart: unless-stopped